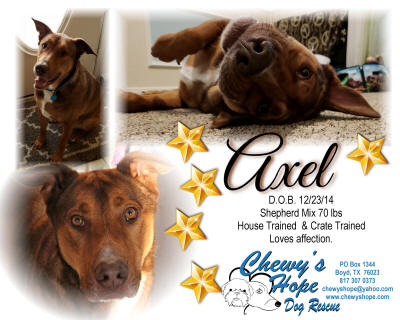 Axel, a 4-year-old. is a loyal, smart, well behaved dog around! He is house/ kennel trained and leash trained. Must be kenneled if not home.
Axel is very laid back, he likes his chin and belly pet, he loves to lay on end of bed, he loves early morning walks and begs when leash comes out to go! He is not super active, loves a couple rounds of fetch but his mom is working on bringing toys back. He likes to hoard them to tease her so she can chase him around yard while wagging his tail! He knows sit, lay down, come, leave it. Axel can catch treats in air, also (a new trick his foster mom taught him.)
Older kids who respect his boundaries would be ideal for this boy. He prefers not to be laid on. He will spend all day watching them outside or laying on end of bed to watch out window or sleeps in doorway like protecting them. He is also gentle with treats and food bowl.
He has a brother in his foster and cat that he is fine with. Axel needs proper introduction to other dogs. If properly introduced he will do well with non-dominant dogs only. He has a brother in his foster and cat that he is fine with.
His DNA indicates he is 50/50 German Shepherd and Am Staff Terrier.
Axel is a large, loving, smart, loyal, well behaved boy patiently waiting for his amazing family. He will not let them down.
CHEWY'S ADDOPTION APPLICATION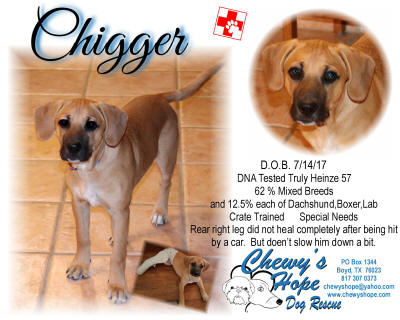 See Chigger's slideshow HERE

PUPDATE: Chigger graduated Puppy Classes!

PUPDATE: Chigger's leg was saved leaving a small impairment that does not slow him down a bit. He is now attending puppy classes and is an A student learning SIT, DOWN, COME AND HEAL.

Hi, Chigger here. Well, things didn't start out too well for me but they tell me it will get better and better. No one seems to really know where my story started except that some humans brought me into a doggie hospital and said that I had been hit by a car. I'm just a little guy, you know, just a puppy so that was bad. My leg was broken and they said that they couldn't pay to fix it so they told the doggie doctor to just "put me down."

Now, I didn't know what that meant but that nice doggie doctor got a really funny look on her face so I don't think it was a good thing at all! She told them, no, to just let her have me so they left me there. The nice doctor put a splint on my leg and gave me a place to stay.

The ladies at Chewy's Hope happened to see me at the doggie doctor's place and said that they would take me. It's been a pretty good gig since then but my leg was broken through something called the "growth plate." I don't know what that is but I can't bend my leg since the cast thingy came off.

My nice foster mommy is taking me to a chiropractor to see if he can help. I can't spell that much less know what it is but foster mommy says he might can help. She says that there will be a forever family that will love me no matter what my leg looks like. I really hope she's right. Will you be my forever family and love me even though some would say I'm not perfect? I promise to love you forever! Please love me forever.
CHEWY'S ADDOPTION APPLICATION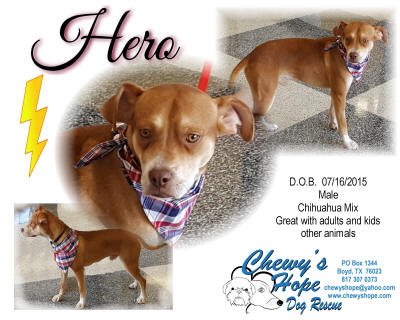 See Hero's slideshow HERE



BREAKING NEWS!!!!!


Hero's DNA Report Just In
DNA Report
50% Chihuahua
25% Boxer
25% Staffordshire Terrier

Meet Hero. If you are looking for that sedate quiet gentleman who loves kids, spending time on the couch with the family and just hanging with his peeps...………...Hero is your guy.

Pick me! Pick me! Pick me! Hey over here, pick me! My name is Hero, and I?m a really good boy. I need a new family because my old family decided they didn?t want me anymore. Sniffle, I was left at a doggie jail called a shelter or something like that. I heard some of the humans saying I was on the EU list for the next morning. I didn?t know what that was but I don?t think it was anything good.

At the last minute, Chewy?s Hope stepped up and saved me. Whew, that was close! I went to something called a foster home and the lady is really nice here and there are little humans, cats and even a snake to play with! I have to admit though, that snake scares me a little.

I am crate, house and leashed trained. I am still a youngster so I like to chew a little. If my humans can?t watch me, I would need to be in a crate, at least until I outgrow this crazy addiction of mine to shoes and things like that.

Bet you didn?t know I am a real hugger too! I love hugging everyone! Sit next to me and I will crawl into your lap and hug and love on you. See, now you know what an awesome little guy I am! So come on, fill out that adoption app. You know you want to!
CHEWY'S ADDOPTION APPLICATION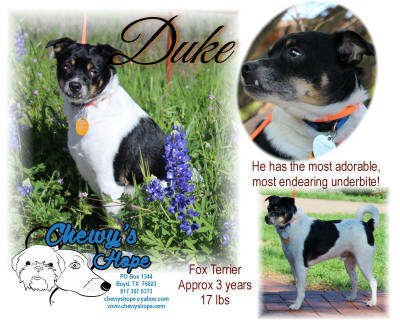 See Duke's slidesow HERE

Duke loves children and has the most adorable underbite!
CHEWY'S ADDOPTION APPLICATION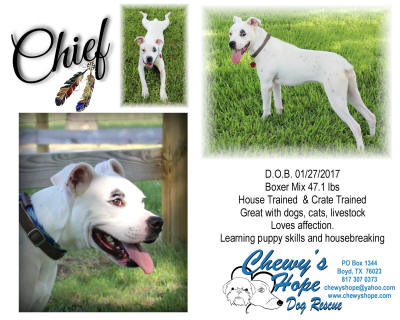 SEE CHIEF'S SLIDE SHOW
HERE
PUPDATE ON CHIEF
CHIEF has graduated Puppy Obedience and just earened his Canine Good Citizen Certificate and Novice Trick Dog title with AKC. And he has also done some Agility work and zooms through the tunnel!
CHIEF
Hi! I am easy on the eyes and easy to live with. I'm a Boxer mix with lots of energy and love an active lifestyle. I learn quickly and am developing good manners in my foster home. I haven't met a person I don't like. I am an active boy and love walks and playing with toys.

I attended puppy classes and I achieved his AKC Canine Good Citizen certification and my AKC Novice Trick Dog Title. I have also taken some agility classes.

I am registered in the AKC CANINE PARTNERS which allows me to compete and earn titles like AKC's Canine Good Citizen and AKC Therapy Dog and get involved in exciting sports like Rally, Agility, Coursing and Tracking

I am looking for a home where I can continue my training and possibly participate in AKC Rally classes as an All-American Dog. I would do best with older children who can appreciated my exuberance and activity level.
Chief's DNA results 50% Boxer, 25% Am Staff, 12.5 American Bull Dog, 12.5% Miniature Bull Terrier.
CHEWY'S ADDOPTION APPLICATION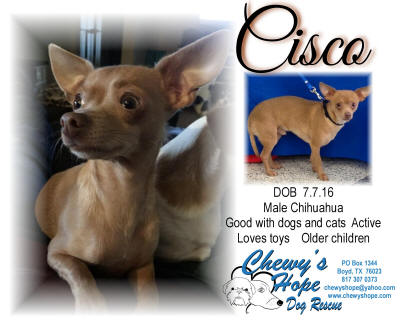 This is Cisco & he's now ready for his forever home. He's 8 months old, had all his shots, neutered, microchipped & on heartworm prevention. He loves to play with his brother & other dogs of all sizes. Likes cats & loves his toys. He will do better in a home with older kids. Crate trained & working on potty-training. Cisco is the perfect, sweet lovable lap dog!
CHEWY'S ADDOPTION APPLICATION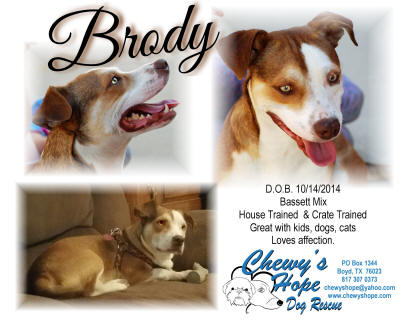 BRODIE'S SLIDE SHOW
CHEWY'S ADDOPTION APPLICATION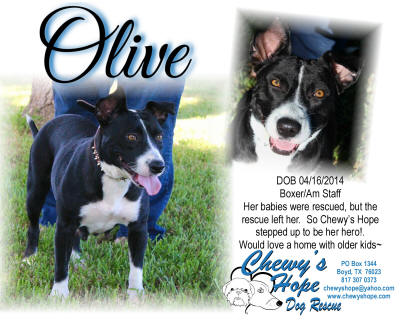 OLIVE'S SLIDE SHOW
Please meet Olive, our newest Chewy's Hope baby. Olive came into a shelter down south pregnant and heartworm positive. She was fostered until her babies were born and weaned. Her babies were then transported to a rescue. For whatever reason, Olive didn't get to go with her babies and was taken back to the shelter where she wound up on the EU list. I happened to see her picture late the night before she was to be Eu'd and knew that we couldn't let this beautiful little girl die. With the help of several amazing ladies, we were able to get Olive from Corpus Christi into our hands where she will get the treatment she needs and will never wind up in a shelter again! Thank you ladies for all your help! You know who you are. It never ceases to amaze me what can be accomplished when everyone works together with the welfare of dogs first in mind. Thank you EVERYONE who had a hand in saving this precious girl!
CHEWY'S ADDOPTION APPLICATION
S