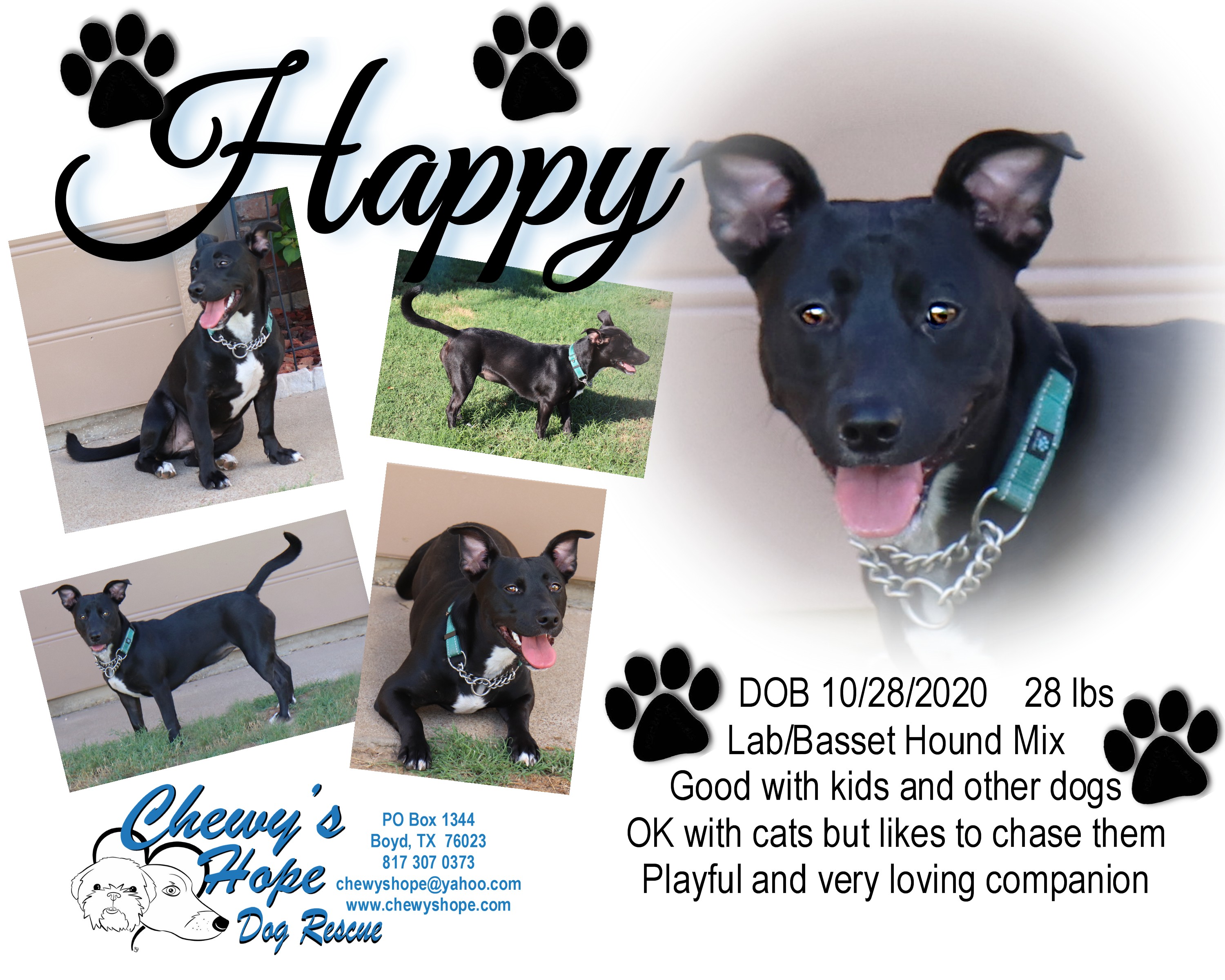 Hello, my name is Happy and wow is my name ever fitting! y foster mom says I'm the happiest little girl she's ever seen. They say they think I'm a pit/basset hound mix. I don't know what that is but it must be cute because I sure am! I am about 8 months old.
I used to have a home but somehow I broke my leg. My family couldn't afford to have my leg fixed so they asked Chewy's Hope for help. I had surgery on my leg but my people couldn't keep me restrained as they needed to so my leg wasn't healing. They surrendered me to Chewy's Hope
and with proper care, my leg is now all healed and I feel great! I am a very playful girl but also love to cuddle on the couch. I am a puppy though so I need to be crated when you can't watch me unless you like things chewed a little. I do pull on my leash a little but I'm working on that. I love all other dogs (although they find me annoying sometimes) and children. I just love everyone! Love to chase me some cats though so I get in trouble all the time at my foster home for that but I do stop when foster mom yells "Happy stop that." If you want a playful and very loving companion, I'm the girl for you! I'll be waiting!




ADOPTION APPLICATION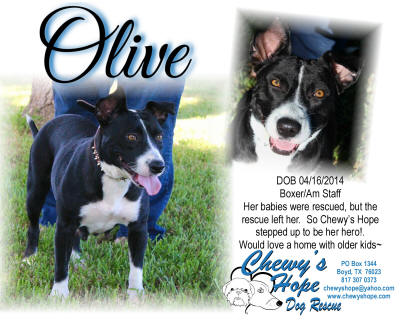 OLIVE'S SLIDE SHOW
Please meet Olive, our newest Chewy's Hope baby. Olive came into a shelter down south pregnant and heartworm positive. She was fostered until her babies were born and weaned. Her babies were then transported to a rescue. For whatever reason, Olive didn't get to go with her babies and was taken back to the shelter where she wound up on the EU list. I happened to see her picture late the night before she was to be Eu'd and knew that we couldn't let this beautiful little girl die. With the help of several amazing ladies, we were able to get Olive from Corpus Christi into our hands where she will get the treatment she needs and will never wind up in a shelter again! Thank you ladies for all your help! You know who you are. It never ceases to amaze me what can be accomplished when everyone works together with the welfare of dogs first in mind. Thank you EVERYONE who had a hand in saving this precious girl!
ADOPTION APPLICATION