CHEWY'S HOPE DOGS AVAILABLE FOR ADOPTION
Adoptable Chewy's Hope dogs are fully vetted and health guaranteed.
They are up to date on their vaccinations, spayed or neutered and microchipped,
heart worm free and on prevention. They have been fostered in homes where they receive
personal attention and evaluation of their temperaments.
If you have any questions you can contact us by Facebook or e-mail.
We hope you find your perfect companion in our
list of Adoptable and Soon To Be Available pages.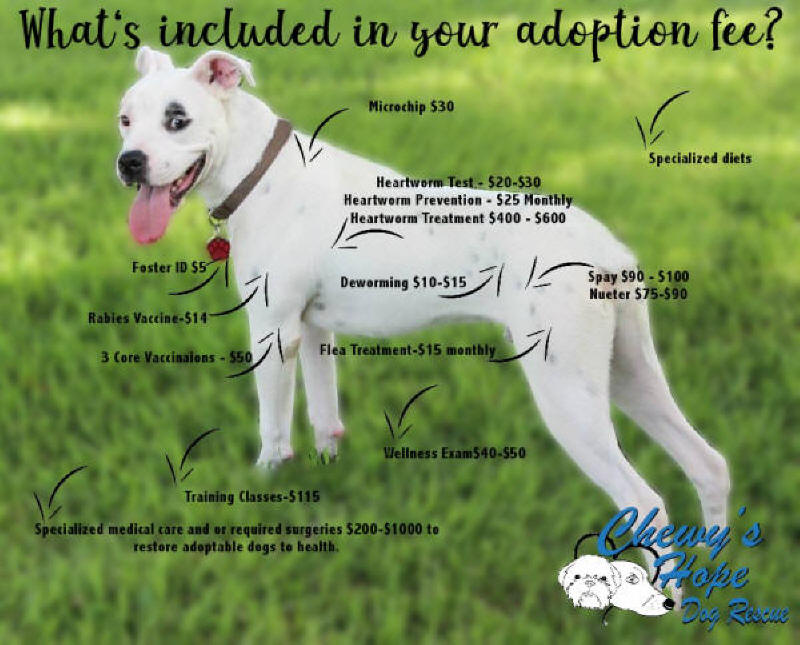 CHEWY'S ADDOPTION APPLICATION
It can either be electronically submitted attached to an email to chewyshope@yahoo.com.
or mailed to: Chewy's Hope PO Box 1344 Boyd, TX 76023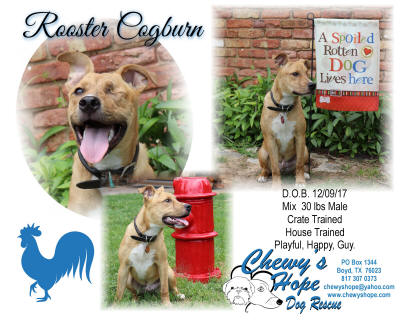 Hi, my name is Rooster. I know, that sounds like a funny name, but I actually think it's pretty cool. I'm named after Rooster Cogburn, you know, John Wayne played him. He had one eye and so do I. I was brought into the shelter with a bad eye and it was hurting really bad. Chewy's Hope didn't want me hurting anymore, so they rescued me. I had to have surgery to remove my eye. I'm all healed now and am a very happy, energetic boy. I am crate trained, house trained, leash trained and love to play fetch. I'll sit for a treat anytime. Throw a ball or rope and I will race anything to get it, my favorite is the rope. I love to play with other dogs, I tolerate cats and there is a squirrel at my foster home that drives me crazy. He taunts me, but I'll get him one day(maybe). I just want to find a family to love me and play with me. Is that you?

CHEWY'S ADDOPTION APPLICATION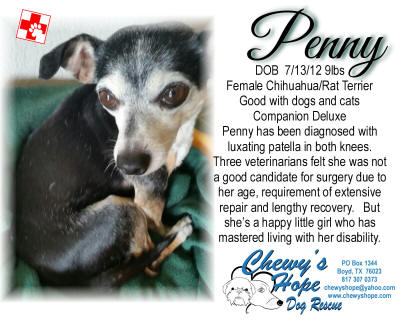 Meet Penny…rescued off the streets but in a better place now. Penny is a 7 yr old female Chi/Rat Terrier mix who is low maintenance, easy going and gets along well with other dogs and cats. She is small in size (only 9 lbs) & she can melt your heart with those soulful brown eyes.
Her favorite place is to be by your side whether it's out for a walk or sitting on the couch. She has tons of potentia
l & will do great with some basic training.

Penny has been diagnosed with luxating patella in both knees. Three veterinarians felt she was not a good candidate for surgery due to her age, requirement of extensive repair and lengthy recovery. But she's a happy little girl who has mastered living with her disability.

Otherwise, she is in perfect health. Up to date on HW prevention, her vaccinations, flea & tick protection & has had her dental. Penny longs to be someone's special pet with a secure yard to run and play…she's awaiting your friendship

Fostered by Beth Hardin
CHEWY'S ADDOPTION APPLICATION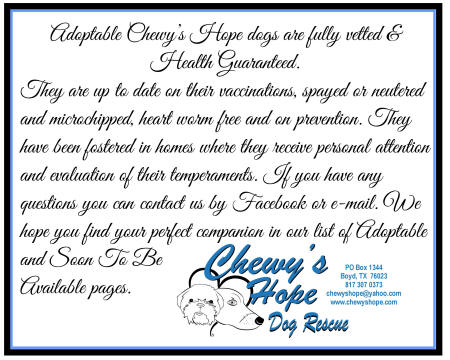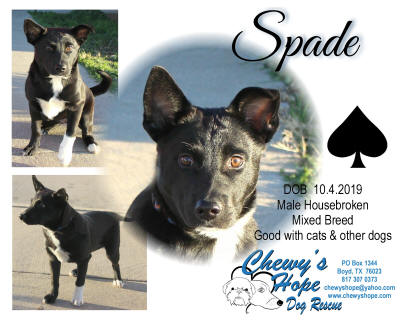 Hi there! My name is Spade. I was dumped and a nice lady found me on the road. She contacted Chewy's Hope and now I'm safe. I was only 8 weeks old the week of Thanksgiving 2019. I was very scared when I got to my foster parents house, but I gained my confidence pretty quick. I am house trained. We are working on crate and leash training. I love playing with my foster parents dogs and cats. Running and playing with my toys are some of my favorite things. They think I am a border collie mix, with maybe some blue heeler, but they are really not sure. I'll probably end up being a medium size boy. My foster mom says I am very handsome. I really want a family to call my own that will love me and want me for the rest of my life. If that's you, I will love you forever!!
CHEWY'S ADDOPTION APPLICATION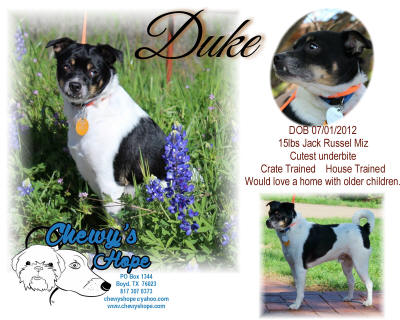 See Duke's slidesow HERE

Duke loves children and has the most adorable underbite!
CHEWY'S ADDOPTION APPLICATION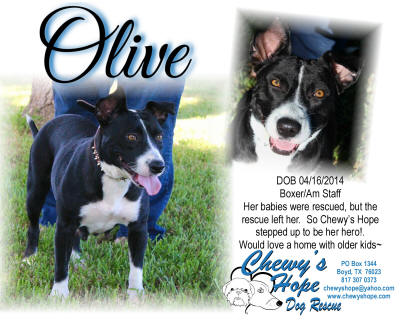 OLIVE'S SLIDE SHOW
Please meet Olive, our newest Chewy's Hope baby. Olive came into a shelter down south pregnant and heartworm positive. She was fostered until her babies were born and weaned. Her babies were then transported to a rescue. For whatever reason, Olive didn't get to go with her babies and was taken back to the shelter where she wound up on the EU list. I happened to see her picture late the night before she was to be Eu'd and knew that we couldn't let this beautiful little girl die. With the help of several amazing ladies, we were able to get Olive from Corpus Christi into our hands where she will get the treatment she needs and will never wind up in a shelter again! Thank you ladies for all your help! You know who you are. It never ceases to amaze me what can be accomplished when everyone works together with the welfare of dogs first in mind. Thank you EVERYONE who had a hand in saving this precious girl!
CHEWY'S ADDOPTION APPLICATION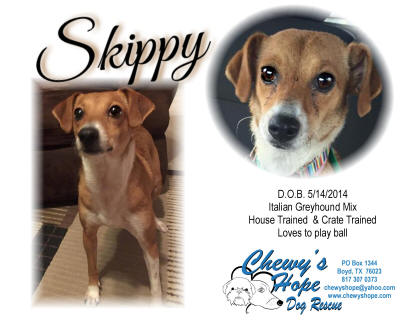 Skippy is a very happy, energetic boy. He the crate trained, leash trained and house trained. Skippy love his ball and playing catch is a must. He will catch his ball before it even touches the ground or out run it when thrown. All this boy needs is his ball and a whole lot of love. Skippy was saved from the Wise County Animal Shelter. He was picked up as a stray. Pictures make this boy look bigger than he is. At only 16.6 pounds, he is mostly legs and boy can he move them. This is a fast little guy when he is playing. Skippy came to us heart worm positive, but has gone through treatment.
CHEWY'S ADDOPTION APPLICATION