CHEWY'S HOPE DOGS AVAILABLE FOR ADOPTION
Adoptable Chewy's Hope dogs are fully vetted and health guaranteed.
They are up to date on their vaccinations, spayed or neutered and microchipped,
heart worm free and on prevention. They have been fostered in homes where they receive
personal attention and evaluation of their temperaments.
If you have any questions you can contact us by Facebook or e-mail.
We hope you find your perfect companion in our
list of Adoptable and Soon To Be Available pages.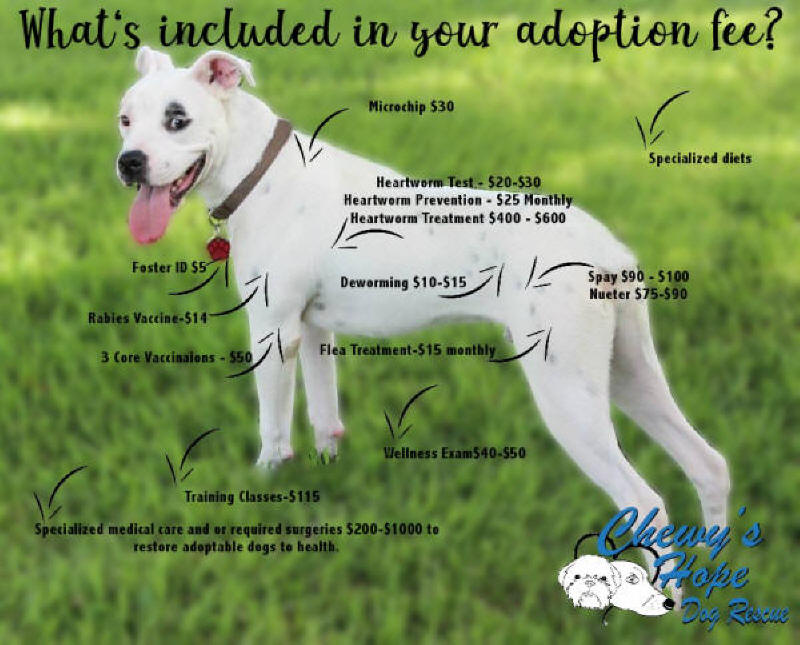 CHEWY'S ADDOPTION APPLICATION
It can either be electronically submitted attached to an email to chewyshope@yahoo.com.
or mailed to: Chewy's Hope PO Box 1344 Boyd, TX 76023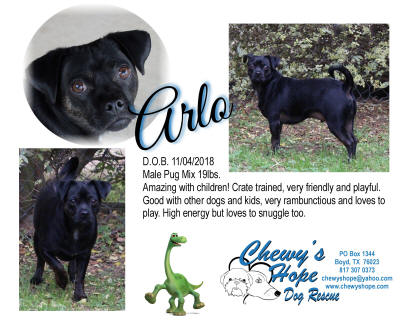 Hi, Arlo here!

My foster mom says I am the sweetest dog she has ever taken care of. I am very active and love to run outside play fetch and tug of war and I love squeaky toys. I like everybody, male or female, young or old, human or dogs. Not sure about cats yet. Although I am crate trained, I can be trusted to sleep on a comfy bed in your room. I know Sit and will Sit to get my treats and show my good manners. I can entertain myself with the toys but really enjoy the company of my buddies.

My foster mom takes such good care of me! I get baths and also get to wear clothes which really makes me a heartbreaker to the girls. I am on heartworm preventative once a month and the name of it is Advantage Multi . She said I might I get a home with a stay at home parent and some fur buddies to play with and maybe kids.

If you are interested in a fun loving, active (and handsome, I might add) addition to your family, just let me know. My contact information is at Chewy's Hope Dog Rescue.

CHEWY'S ADDOPTION APPLICATION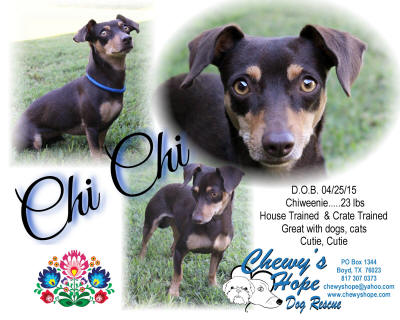 I was all alone and wandering the streets, waiting to have my babies. I was scared and lonely. A kind lady found me and took me home with her. She became my foster mom for Chewy's Hope.
They gave me a name, Chi Chi. They were nice to me but I was so afraid. People had not been kind to me. The Chewy's Hope ladies took me to the doggie doctor, who said my puppies were too big.

You see, I'm just a little girl. Just a few days later, I started to have my puppies. I had to be rushed to the doctor for something called a C-Section. My babies were born early and even though everyone tried really hard to save them, they died, one by one.

Now it is just me. I have been with my foster mom for some time, trying to learn to trust people again. I have come such a long way but can still be a little skittish at first. For that reason, I would probably need a family with children that are a little older. I am a sweet girl who needs a family that can show me that not all people are bad. I just want a warm lap to lie in and someone to cuddle with.

Will you be my family? Please?


CHEWY'S ADDOPTION APPLICATION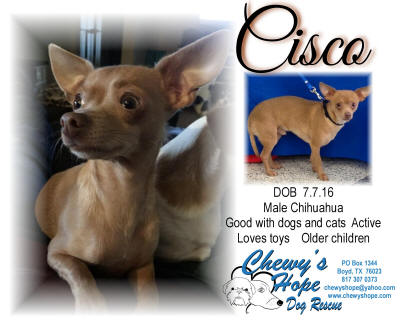 Looking for a cute small lap dog? Well here he is! He would love a home with other dogs & a big yard to play in. He loves to be outside when the weather is nice but when he's inside, he likes to be under a blanket with you snuggling. He'll do best in a home with older children & he's been around cats also.

This is Cisco & he's now ready for his forever home. He's had all his shots, neutered, microchipped & on heartworm prevention. Cisco is the perfect, sweet lovable lap dog!
Fostered by Lisa Reed-Bruce
CHEWY'S ADDOPTION APPLICATION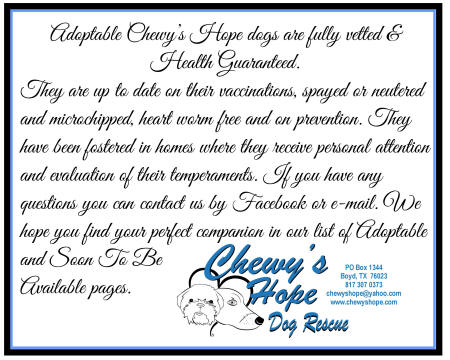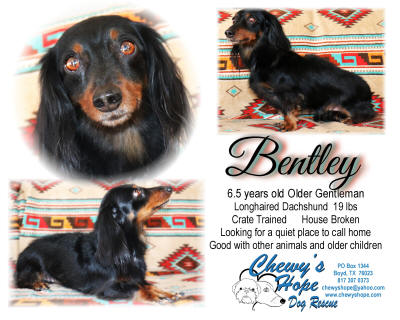 Bentley's background is one of beginning life in a hoarding situation and then losing the one who rescued him. His rescuer reluctantly had to find a new home for him after developing cancer and he was not treated kindly in that new home. Eventually, he found his way to Chewy's Hope Dog Rescue where he is waiting for that special adopter who will give him a real forever home.
Of course he is up to date on vaccinations and on heartworm prevention. He will have a dental before he goes to his new home.
He's is crate trained, good with other animals, housebroke. Not much on toys preferring to be a lap dog in a quiet home where he will be loved knowing that he is safe for the rest of his life.
CHEWY'S ADDOPTION APPLICATION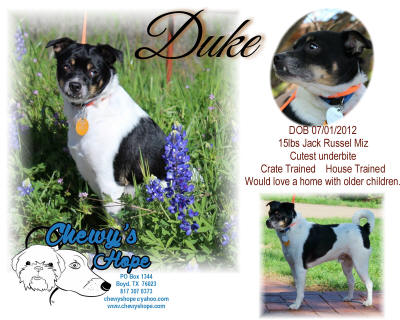 See Duke's slidesow HERE

Duke loves children and has the most adorable underbite!
CHEWY'S ADDOPTION APPLICATION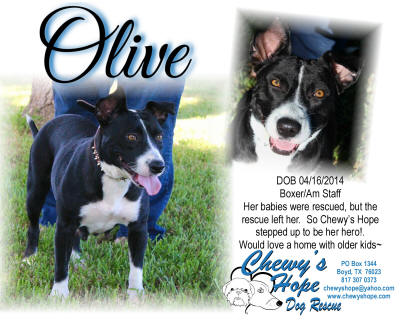 OLIVE'S SLIDE SHOW
Please meet Olive, our newest Chewy's Hope baby. Olive came into a shelter down south pregnant and heartworm positive. She was fostered until her babies were born and weaned. Her babies were then transported to a rescue. For whatever reason, Olive didn't get to go with her babies and was taken back to the shelter where she wound up on the EU list. I happened to see her picture late the night before she was to be Eu'd and knew that we couldn't let this beautiful little girl die. With the help of several amazing ladies, we were able to get Olive from Corpus Christi into our hands where she will get the treatment she needs and will never wind up in a shelter again! Thank you ladies for all your help! You know who you are. It never ceases to amaze me what can be accomplished when everyone works together with the welfare of dogs first in mind. Thank you EVERYONE who had a hand in saving this precious girl!
CHEWY'S ADDOPTION APPLICATION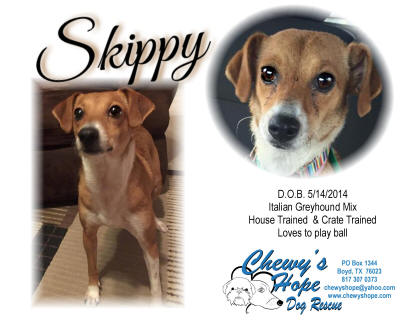 Skippy is a very happy, energetic boy. He the crate trained, leash trained and house trained. Skippy love his ball and playing catch is a must. He will catch his ball before it even touches the ground or out run it when thrown. All this boy needs is his ball and a whole lot of love. Skippy was saved from the Wise County Animal Shelter. He was picked up as a stray. Pictures make this boy look bigger than he is. At only 16.6 pounds, he is mostly legs and boy can he move them. This is a fast little guy when he is playing. Skippy came to us heart worm positive, but has gone through treatment.
CHEWY'S ADDOPTION APPLICATION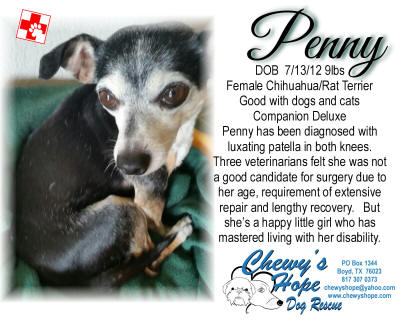 Meet Penny…rescued off the streets but in a better place now. Penny is a 7 yr old female Chi/Rat Terrier mix who is low maintenance, easy going and gets along well with other dogs and cats. She is small in size (only 9 lbs) & she can melt your heart with those soulful brown eyes.
Her favorite place is to be by your side whether it's out for a walk or sitting on the couch. She has tons of potential & will do great with some basic training.
Penny has been diagnosed with luxating patella in both knees. Three veterinarians felt she was not a good candidate for surgery due to her age, requirement of extensive repair and lengthy recovery. But she's a happy little girl who has mastered living with her disability.
Otherwise, she is in perfect health. Up to date on HW prevention, her vaccinations, flea & tick protection & has had her dental. Penny longs to be someone's special pet with a secure yard to run and play…she's awaiting your friendship
CHEWY'S ADDOPTION APPLICATION