CHEWY'S HOPE DOGS AVAILABLE FOR ADOPTION
Adoptable Chewy's Hope dogs are fully vetted and health guaranteed.
They are up to date on their vaccinations, spayed or neutered and microchipped,
heart worm free and on prevention. They have been fostered in homes where they receive
personal attention and evaluation of their temperaments.
If you have any questions you can contact us by Facebook or e-mail.
We hope you find your perfect companion in our
list of Adoptable and Soon To Be Available pages.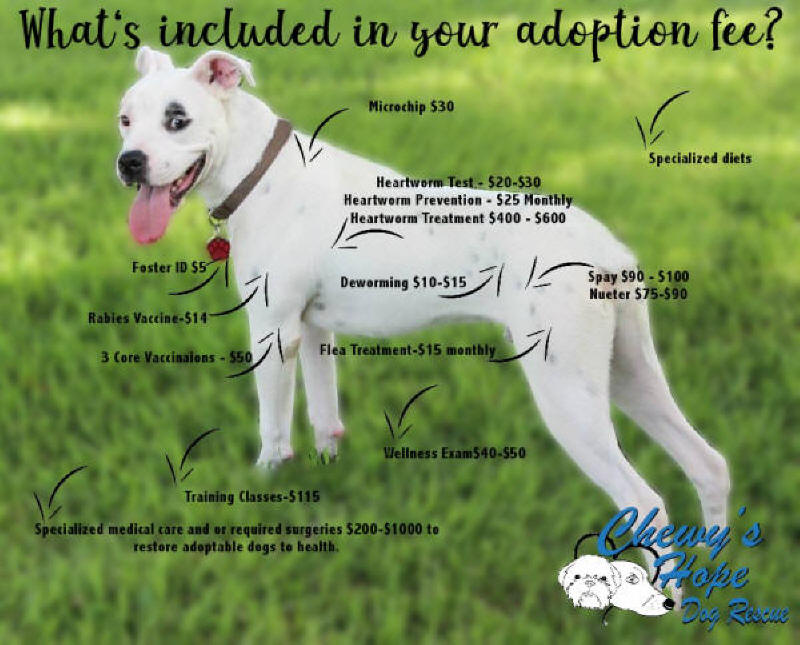 ADOPTION APPLICATION
It can either be electronically submitted attached to an email to chewyshope@yahoo.com.
or mailed to: Chewy's Hope PO Box 1344 Boyd, TX 76023


Sheba was dumped with three tiny puppies on busy 730 at the Methodist Church in Boyd. She valiantly protected her little family from darting out in oncoming traffic while scrounging and begging for food. Neighbors, concerned for the family's safety, put out a plea for help. Finally, she was rescued by Chewy's Hope and could relax with the puppies at her foster home. The puppies are now fully weaned and Sheba is ready to start her new life as a retired mum. She loves people and is very low key for her breed type. She'd be happy to snuggle and watch TV with a loving family or retirees. She has excellent leash manners, is house broke, relaxes in her crate. Her dream would be to someone's special little companion who will maintain an ample supply of Milk Bone dog treats.

If you are interested in a relationship, send in an adoption app with my name on it. ADOPTION APPLICATION


Hello, Jett's my name and fun is my game! Yep, I may be small but I'm full of fun! When I came to Chewy's Hope, I had a broken leg. They got me to the dog doctor and they put this thing called a splint on my leg. I didn't like that thing at all! It stayed on for a couple of months but guess what?? I'm free now! My leg feels all better! I can run, run, run! One of my favorite things is doing zoomies! I am about 9 months old so I am a puppy and I do puppy things. They say I am fully vetted, whatever that means. I know I went to that dog doc and got some shots and one time I even went and came home without some body parts! Not sure I wanna go there again! They tell me I am a min pin mix so anyone thinking I'm really cute and that you may want me, please do your research first. They say we min pins are not for everyone. We are smart littles and can be really hyper at times but oh so lovable! We typically do better with kids that are a little older. If you think you have what it takes to give me a forever home, you can submit an application at http://chewyshope.com/ADOPTING.html If you think I'm the little love of your life, hit me up!






OLIVE'S SLIDE SHOW



Please meet Olive, our newest Chewy's Hope baby. Olive came into a shelter down south pregnant and heartworm positive. She was fostered until her babies were born and weaned. Her babies were then transported to a rescue. For whatever reason, Olive didn't get to go with her babies and was taken back to the shelter where she wound up on the EU list. I happened to see her picture late the night before she was to be Eu'd and knew that we couldn't let this beautiful little girl die. With the help of several amazing ladies, we were able to get Olive from Corpus Christi into our hands where she will get the treatment she needs and will never wind up in a shelter again! Thank you ladies for all your help! You know who you are. It never ceases to amaze me what can be accomplished when everyone works together with the welfare of dogs first in mind. Thank you EVERYONE who had a hand in saving this precious girl!